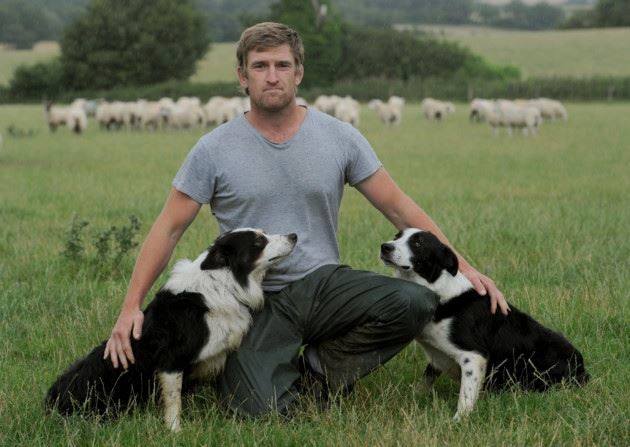 Ed Hawkins
"It is with great enthusiasm and excitement I accepted the challenge of judging the Dutch open this year. When I was approached by my friend Carlette van Schaick who is instrumental in the organisation of this exciting event, I was only to pleased to oblige! Having judged the trial years ago before it was re-established. I have fond memories of how welcome we were made by the Dutch and I'm very much looking forward to coming back to Holland.

I'm currently a full time shepherd of 1500 ewes alongside which I run 300 ewes of my own. And keep usually around 12 dogs. As well as training and trialling my own dogs I regularly train dogs for others and hold training sessions for handlers. But mostly take great pride in bringing on my own Gipping Valley Sheepdogs.

I have been trialling for around 17 years now and feel my next aim is to experience more trialling abroad.. so judging the Dutch open followed by competing at the Belgium open is a great opportunity.

I will be looking for practical controlled shepherding and dogs with presence under good control. Scores will undoubtedly reflect those handlers that work hard at correct lines and turns demonstrating their dogs to the best of their ability.

Having been lucky enough to get in the English team twice and world trial semi-final I fully appreciate how challenging it is to compete against some fantastic handers...and now look forward to judging some of them in Holland. Thanks in advance go to all those involved in what is going to be a spectacular trial!

See you soon Ed Hawkins"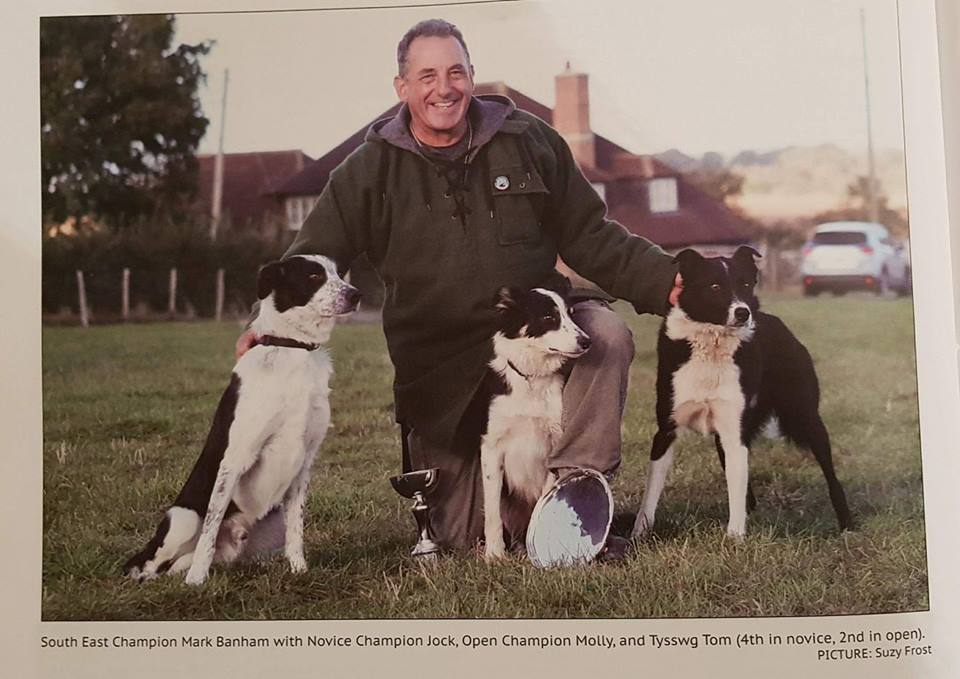 Mark Banham
"My name is Mark Banham,
I became a shepherd when I left school and worked my way up to head shepherd on a 2200 ewe flock.
I started working for myself in 1989 contract shearing and fencing and started with a flock of 300 ewes.
In 1994 I was successful in tendering for Shabden Park Farm and now farm 400 ewes, 40 cattle, and have an on farm butchery.

I started trialling in 1985 to 2004 and then stopped for 8 years to bring up my young children and sell my farm produce in London farmers markets at weekends.
Coming back to trialing in 2012 and now I compete nearly every weekend.

Training and selling dogs is a major part of the farm business, also hosting training days and trials here at Shabden.

For the last 4 years I have been chairman of Surrey Sheepdog Society.
I have judged in the USA and all over europe, but this will be my first time in Holland, and I consider this a great honour to judge the Dutch open.

Looking forward to seeing you all, having fun and making new friends.

When judging I look for straight lines and tight turns, the dog shedding the sheep and holding them. Most of all I look for practical handling as would be done on the farm"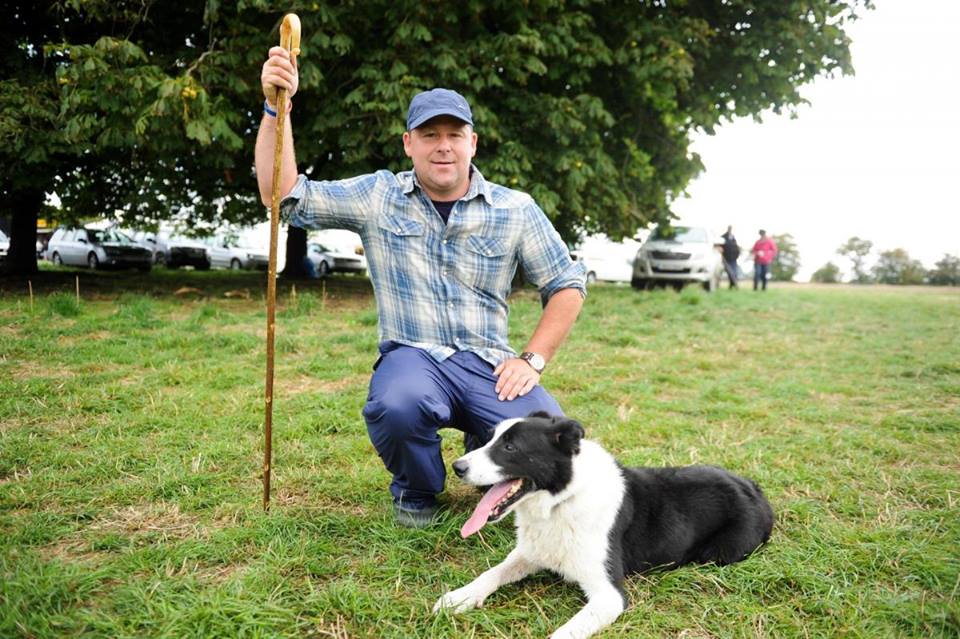 Ben Smith
"Firstly I'd like to say what a great honour it is to be asked to judge the Dutch Open IST 2018! Although I haven't been to the competition myself before I have heard great reports from others who have competed and judged in previous years, so I'm looking forward to witnessing a great spectacle and of course a very competitive trial!

I would say I'm a hard but fare judge. I look for a good work like flow to the runs and definitely keen on good lines!!!

A bit about myself... I grew up in Derbyshire and from a very young age I spent all my spare time with my grandfather who owned a 1000 acre mixed hill farm. I get my passion for dogs from him as he always had 20 or 30 dogs and although he wasn't a trialist he often sold to others who competed in competitions.

I have always trained dogs and had them for work as I'm a full time shepherd, currently based in Warwickshire, breeds no pure Lleyn / Charollais and blue Texels for both breeding ewes and rams. I actually only started trialling myself in 2008 and since then have definitely caught the bug! As a board member of the ISDS, I am committed to search for improvement in our future regarding trialling.

In the last 10 years I have had some great success and achievements with my dogs; to name a few:
England team member 7 times, a National Champion in 2012 and I have been to 2 world trials. Meg/Guto in 2011 and with Ben this last year over in Holland. We managed to reach the semi-finals at both which I'm very proud of!
In 2016 I also qualified for the supreme-final and was happy and proud to complete the course in my first final!

I look forward to meeting all involved with the organisation of the trial.

Good luck to all, see you soon Ben Smith"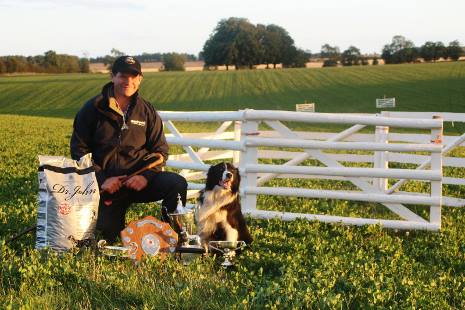 James Howard
"Thank you for the invitation to judge the Dutch International Open. We are very excited to be visiting Holland again after the fabulous World Trial last year.

My wife Amy, son Freddie and I live in the Peak District National Park where we have a 3500 acre family Hill farm. We keep mainly sheep and approximately 150 cattle. We also buy store lambs to fatten through the winter so I have plenty of work for dogs!!

We have 2 holiday cottages ( lanefarmcottages.co.uk ).
I have worked dogs from the age of four and competed in my first trial aged 8.
Education and rugby then took priority. I started to train dogs after university and started trialling seriously about 12 years ago.

Time limitations means I focus mainly on the bigger open trials in the summer.
Trials are a great excuse to get off farm and Amy, Freddie and I cannot wait to experience more of what Holland has to offer. Of course my primary focus will be the judging.

I will be looking for practical, workmanlike shepherding and I will always leave enough room to reward the perfect run!!

See you soon and good luck to all.
James Howard"